Welcome to The Duck Inn, a historic Supper Club located on the corner of County A and Hwy 89 in the township of Richmond, city of Delavan, WI. The name, The Duck Inn, originated first during the prohibition era when the Duck Inn was a speak easy. Therefore, patrons were to secretly "duck in" for a drink where the bartender would tell a patron to be quiet and "speak easy".
After prohibition ended, Wisconsin Liquor licenses were issued mostly outside the city limits, with the contingency that the establishment must serve food. To make use of the liquor license, establishments started to specialize in dinners, thus "supper clubs"were born.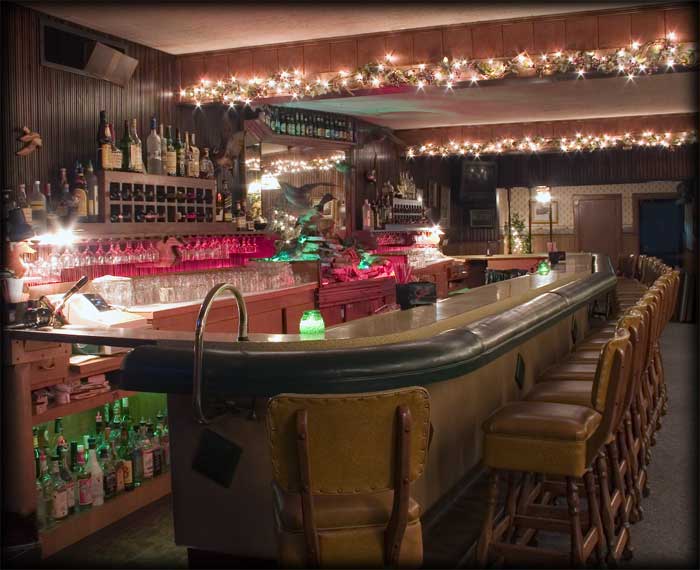 In 1994, The Duck Inn was purchased by Jeff Karbash with the goal to restore The Duck Inn to a traditional supper club. The Karbash Family created an inviting atmosphere with casual fine dining in an elegant country setting. This is done with a historical duck theme, festive holiday decorations, friendly accommodating staff, and fine food & cocktails.
"Duck in" for a cocktail and dinner. Sit at the bar and enjoy an Old Fashioned, a Martini, or a Manhattan, sample a wine from our extensive wine list, or enjoy one of our fine specialty drinks.
For Dinner, sit in one of our three dining rooms and enjoy many duck entrées, steak, or seafood dishes. Finish your meal with a homemade dessert prepared by our pastry chef. We use only the finest ingredients and locally grown products. At the Duck Inn, food is not prepared, it is created.
Jeff and Nora Karbash invite you to come and visit a traditional supper club where you can enjoy the atmosphere, cocktails, and a fine meal. If you enjoyed your dining experience, please speak freely to your friends, don't"speak easy".
The Duck Inn is handicap accessible and fully ADA approved