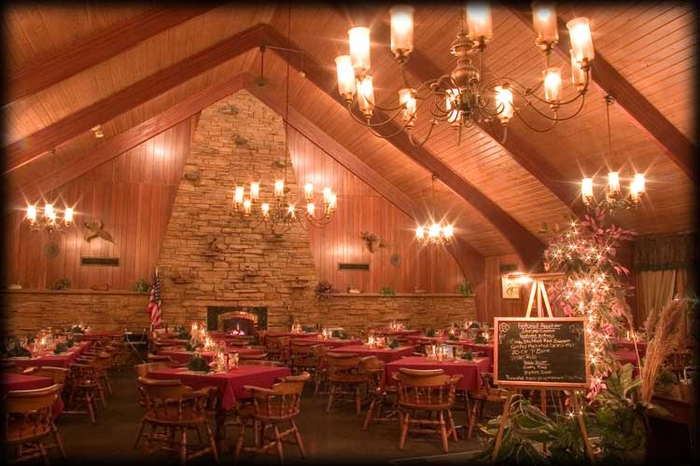 Specializing in Parties of 2 – 200!
We specialize in parties of 2-200 and we will make your night one to remember.  We have two banquet rooms for you to choose from, The Duck Room and The Drake Room. The largest room, known as the Drake Room (picture below), features a 24 foot stone fireplace with vaulted ceilings. This room can accommodate up to 110 of your guests.
The Duck Room (picture above) offers a more intimate setting for smaller gatherings, this room can accommodate up to 70 people. The Duck Room is the original part of the restaurant, dates back to the late 1920's-early 1930's and has since been restored to reflect that era.
We will open any time for a party of 30 or more to accommodate your needs. Feel free to inquire about special menu requests and needs.
Occasions that we cater to:
Baptisms
Christenings
Confirmation parties
Bar/Bat Mitzvah
Graduations
Bridal Showers
Rehearsals
Bachelor/Bachelorette parties
Weddings
Funerals
Baby Showers
League parties
Christmas parties
Employee gatherings
Duck Hunting parties
Anniversaries Retirement
Family Reunions
Family Style Buffet parties must have 20 people or more. This option comes with a tossed salad, cheese, crackers, mashed potatoes, vegetables, and two meat choices (chicken, roast beef, baked cod, ham, or turkey) all for only $13.95 a person plus tax and tip. Not available most Saturday nights.
Family Style Breakfast Buffets are available every Saturday and Sunday 9:30am to 12:30pm for parties of 20 or more. This option includes fresh fruit, fresh muffins, fried potatoes, scrambled eggs, bacon, link sausage and a pancake station for freshly made pancakes to order for only $12.95 per person plus tax and tip. Breakfast buffets are ideal for a meal following baptisms, bridal/baby showers, confirmations, etc.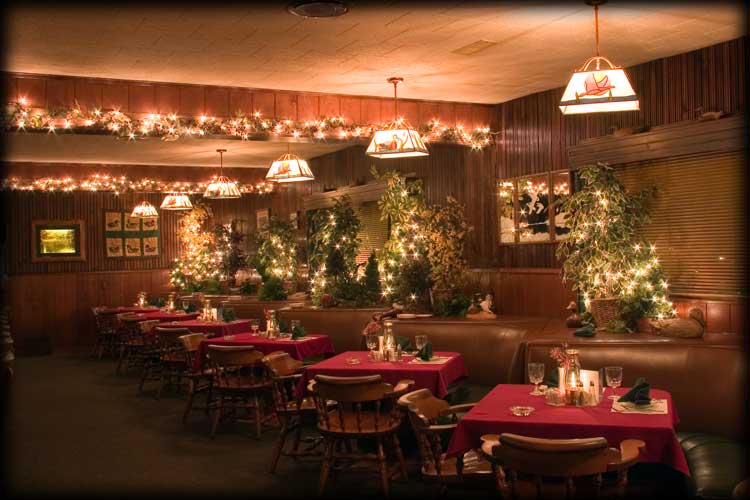 BANQUET MENU
Choose from Sit Down Dinner or Family Style/Buffet for 13.95
Gulf Coast Jumbo Shrimp Cocktail

$55.00

25 shrimp


Crab Stuffed Mushrooms

$45.00

25 mushrooms


Deep Fried Vegetables

$35.00

20 people only


Bacon Wrapped Water Chestnuts

$35.00

25 Chestnuts


Cheese and Sausage Tray

$35.00

Grecian Chicken Wings

$40.00

25 wings

For sit down dinners you can choose any four entrées from Beef and Pork, Sea and Lake, and Combination dinners.
Roast Beef of Prime Rib

$25.00

New York Strip Steak 12 oz.

$29.50
One Half Roasted Duck

$21.25

Grecian Pork Chops

$18.00

Baby Back BBQ Pork Ribs

$21.00
Deep Fried Jumbo Shrimp

$21.70

Salmon Filet with Dill Sauce

$22.45
CREATE YOUR OWN COMBINATION DINNER
Pick any 2 items for $32.00 or any 3 items for $37.00
Petite Filet
Deep Sea Scallops
Half Rack BBQ Pork Ribs
Jumbo Shrimp
Grecian Pork Chops
Lake Superior White Fish
Quarter Duck
Orange Roughy
Crème De Menthe or Strawberry


Strawberry Shortcake

$3.75
All Buffet Parties must be twenty or more 18% Gratuity and 5.5% sales tax are NOT included
Jeff and Nora Karbash invite you to come and visit a traditional supper club where you can enjoy the atmosphere, cocktails, and a fine meal!
If you enjoyed your dining experience, please speak freely to your friends, don't "speak easy".